AuthorBuzz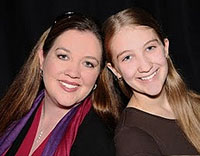 Kimberley and Kayla Woodhouse
Dear Reader,
A young widow and her physically challenged daughter survive a plane crash in the Alaskan mountains but must puzzle together how it relates to the recent death of their husband and father.
Written by a mother and her teenage daughter whose rare medical condition led to their family's story being shared with millions on the hit ABC television program
Extreme Makeover: Home Edition
. Elements of their real-life story are worked into this exciting novel.
"We wrote this book so that you would 1) get a better look at one of our very favorite places, Alaska; 2) get a taste of survival in the Alaskan wilderness; and 3) feel what it is like to live with HSAN—or any serious condition or disorder," said Kayla Woodhouse. "To help experience Alaska, we have an Alaskan gift basket to give away. Go to our website to enter.
Kimberley and Kayla
www.KimberleyWoodhouse.com