AuthorBuzz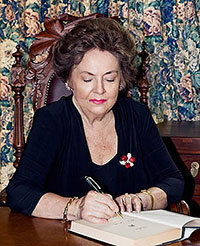 Margaret Way
Dear Reader,
My warmest greetings to my much valued long time readership and welcome hopefully to a new audience. I must tell you, dear readers, dysfunctional families have provided me with the background for many of my books. I think of the entire subject as a bottomless well I can always dip into. I truly hope you enjoy reading this book as much as I enjoyed writing it.
Email Lyrical Press at
lyricalpresspublicity@gmail.com
for a chance to win one of five copies!
Margaret Way,
author of
HER AUSTRALIAN HERO