AuthorBuzz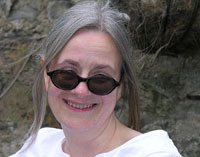 Marie Treanor
Dear Reader,
Elizabeth and the vampire Saloman should have killed each other in BLOOD ON SILK. Unwanted love prevented it, but couldn't avert their parting. Now, in BLOOD SIN, they're destined to meet again in a race through Scotland, America and Hungary, for possession of Saloman's mysterious sword.
Praise for BLOOD ON SILK, the first Awakened by Blood novel:
"Sensual and thrilling, a wonderful combination of vampire myths old and new." —Bestselling Author Michele Bardsley
"I loved it!...humorous...and scintillating...Treanor's writing was exquisite and fully entertained me from start to finish." —CK2s Kwips and Kritiques
"Part romance, part paranormal, part Gothic, and all wonderful...sensual and smart...Saloman is the best vampire in the romance genre...powerful, confident, murderous, and sensual." —Brazen Broads Book Bash
To enter the contest for one of five free copies of BLOOD SIN, email me:
Marie@MarieTreanor.com
.
Happy reading!
Marie
www.MarieTreanor.com