AuthorBuzz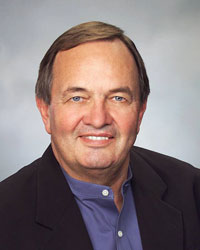 Larry D. Thompson
Dear Reader,
The genesis of THE TRIAL came from newspaper headlines. As a lawyer who still has a day job involving medicine and courtrooms, I began to notice the number of drugs that were the subject of FDA recall and lawsuits. When I investigated, I found that the drug companies were mainly concerned about bottom line profits and the FDA was looking the other way as one drug after another made it to market only to be recalled following severe adverse reactions, even death.
That led to the story of Luke and Samantha Vaughan. Luke moved his daughter to his old hometown of San Marcos, Texas to establish a low-key law practice. After a tumultuous teenage period, Luke and Samantha settled into the father-daughter relationship he always wanted. Then Samantha volunteered for a clinical trial of a new drug and her liver failed. Unable to pay for a liver transplant, Luke was forced to sue the drug manufacturer. In a race against time Luke has to win if he is to save his daughter's life. When his efforts expose fraud and corruption in both the drug company and the FDA, Luke is confronted with an adversary that will do anything, including bribery, kidnapping and murder, to defeat him.
You will want to read this one for two reasons. First, it's a darn good legal thriller (Please go to my website,
www.LarryDThompson.com
for comments by John Lescroart, Steve Berry, Gayle Lynds, Louise Penny and many more outstanding thriller writers. While you're there, read about THE TRIAL's exciting geocaching contest.). Second, you need to know that what the drug companies don't tell you can kill you.
THE TRIAL has also been chosen as an alternate selection by Doubleday Book Club, Literary Guild Book Club and Mystery Guild Book Club.
And if you would like to be eligible for a drawing for an autographed copy, when you get to my website, please leave your email address.
Thanks for your time and I look forward to your comments after you read THE TRIAL.
All the best,
Larry D. Thompson