AuthorBuzz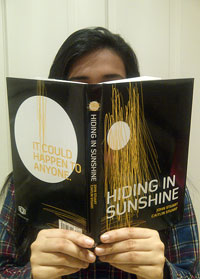 John Stuart and Caitlin Stuart
Dear Reader,
Living lives of quiet affluence in a historic suburban Boston town, Gavin and Lisa Brinkley had no idea how quickly and decisively their lives, and those of their two young daughters, could be upended.
A series of events leads to the family's abrupt uprooting into a terrifying new existence on the run, under new identities. The enemy is a foreign cyber-criminal enterprise that launches breathtaking assaults on the American banking system and physical infrastructure, but the Brinkleys also know that the threat is deeply personal, reaching ever closer to them from the shadows of the past.
In HIDING IN SUNSHINE you will learn about a family's abiding love and courage in their quest to regain their lives while discovering the perils of wandering too close to the edges of the dark side.
We are giving away five books. Write to
cstuart@hidinginsunshine.com
for a chance to win one!
John and Caitlin Stuart
www.HidingInSunshine.com