AuthorBuzz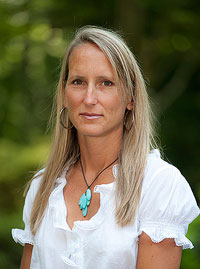 Michel Stone
Dear Reader,
Imagine how it feels for a debut author to have
Library Journal
compare her novel to the works of John Steinbeck.
Set amid the perils of illegal border crossings, my novel THE IGUANA TREE is the saga of Lilia and Hector and their wish for a better life. 
What would you risk if you believed your perfect existence lay just beyond the river? Would anything hold you back? What would you do if you were twenty years old, you loved your baby and your spouse in a way that caused your heart to ache, and you believed if you could just get your family across that line, none of you would ever want again?
Hector and Lilia's illegal entry into the U.S. seems certain to prove their undoing, and the consequences of their decisions are devastating. In the end, THE IGUANA TREE is a universal story of loss, grief, and human dignity.
For a chance to win a copy of THE IGUANA TREE or to send me your thoughts, please email me at: 
TheIguanaTree@gmail.com
.
"Well written, expertly paced, and timely." —
Publishers Weekly
(starred review)
Thank you for your support.
Regards,
Michel
MichelStone.com