AuthorBuzz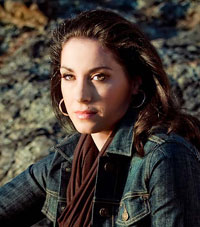 Chevy Stevens
Dear Reader,
On the day she was abducted, Annie O'Sullivan, a thirty-two-year-old Realtor, had three goals—sell a house, forget about a recent argument with her mother, and be on time for dinner with her ever-patient boyfriend. The open house is slow, but when her last visitor pulls up in a van as she's about to leave, Annie thinks it just might be her lucky day after all.
Interwoven with the story of the year Annie spent captive in a remote mountain cabin— which unfolds through sessions with her psychiatrist—is a second narrative recounting the nightmare that follows her escape: her struggle to piece her shattered life back together, the ongoing police investigation into the identity of her captor.
For a chance to win one of five early copies of my second book NEVER KNOWING, please "like" me on Facebook and then email me at
Chevy@ChevyStevens.com
before May 27th, 2011.  In your email, please let me know that you liked me on facebook & mention this note.
Chevy Stevens
www.facebook.com/ChevyStevens
ChevyStevens.com