AuthorBuzz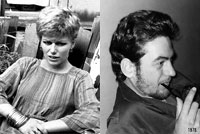 Marie Slaight & Terrence Tasker
Dear Reader,
THE ANTIGONE POEMS is a collaboration between artist Terrence Tasker and myself that was created in the 70's. It is an intensely personal work that I have long wanted to publish, in large part as a tribute to the artist, who died in 1992, at the age of 45. It is a story of a woman's struggle with power, both human and elemental. My intent with the poetry was to sculpt it to a bare and truthful essence.
San Francisco Book Review
calls it "Haunting. ...a disturbingly poignant and startlingly vivid portrait..."
Kirkus Reviews
says "...A beautifully bound, impressive collection with language as evocative as its illustrations."
I'm giving away five signed Advance Review copies (printed in offset with specialty paper). To enter to win one, please write
marieslaight@altaireproductions.com
.
Thank you,
Marie Slaight
www.TheAntigonePoems.com