AuthorBuzz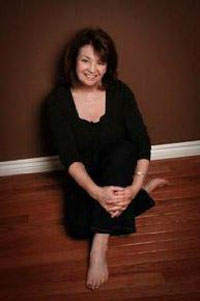 Lynda Simmons
Dear Reader,
Do you have to forgive someone a lifetime of sins, just because they have Alzheimer's?
This is a question Liz Donaldson has been wrestling with ever since her mother, Ruby, was diagnosed with early onset Alzheimer's. Ruby doesn't really care if Liz forgives her or not. She just needs her older daughter to sober up and come home. Take her place as new head of the Donaldson family on Ward's Island and take care of her youger sister, Grace, in the only place where she feels safe.
ISLAND GIRL is a rich and complex story of family, friends and the nature of love when hard choices have to be made.
Praise for ISLAND GIRL:
"Simmons exhibits an exquisitely deft understanding of the extraordinary difficulties that unite a family, and her portrayals of the three women, told in alternating first-person chapters, enable satisfying connections with each."
Publisher's Weekly
". . .emotionally moving. . .elegantly written and insightful."
RT Reviews
"Simmons wields her pen with grace and aplomb. . . a carefully drawn story mixed with island history of the best sort."
A Worn Path
"Anyone looking for a story of strong women fighting for mastery over their lives will appreciate Simmons' second novel."
Library Journal
"...a page turner that will both satisfy and enchant its readers."
Winnipeg Free Press
"You have got to read this book!" Patricia Grace,
Aging With Grace
, Blogspot Radio
"This is a very powerful book."
The Dr. Pat Show
, Voice America
For a chance to win one of five copies of ISLAND GIRL and a Starbucks gift certificate worth $10.00, drop me a line at
www.LyndaSimmons.com
Because it's always the perfect time of year to curl up with a cup of coffee and great new book!
Cheers
Lynda