AuthorBuzz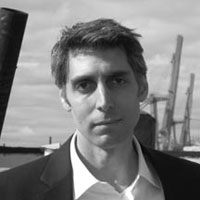 Alex Shakar
Dear Reader,
The writing of LUMINARIUM has been a profound personal odyssey for me, taking me through every subject from angels to neurotheology to the Military-Entertainment Complex.
Part mystery, part metaphysical adventure, the story follows Fred Brounian, a former CEO. His fiancé has left him, he's lost his software company in a swindle, and his best friend and twin brother George lies dying in a coma. Broke and in despair, he follows an attractive woman, Mira, into a neurological study promising "peak experiences" and a newfound spiritual outlook on life. Meanwhile, he starts receiveing bizarre emails and texts that purport to be from his comatose brother.
"LUMINARIUM is dizzyingly smart and provocative.... This book is funny, and soulful, and very sad, but so intellectually invigorating that you'll want to read it twice." — Dave Eggers
For a chance to win one of five signed copies, email
marketing@sohopress.com
. And feel free to contact me through my website,
www.AlexShakar.com
, schedule permitting, for book club Skype-ins.
Be well,
Alex Shakar