AuthorBuzz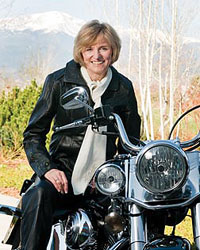 Nancy Rue
Dear Reader,
Just when you think Allison Chamberlain has it all under control — a series of UNEXPECTED DISMOUNTS threatens to take down everything she's sacrificed for. Even if you haven't read
The Reluctant Prophet
(the first book in the trilogy), I think you'll get caught up in Allison's St. Augustine journey with the recovering prostitutes at Sacrament House, an outrageous 12-year-old mulatto boy, and an unlikely group of fellow travelers, all from the back of her Harley.
Because I appreciate you, I'm giving away 10 books (not a mere 5, mind you!) as well as a miniature of Allison's Heritage Softail classic, suitable as a key chain or a stocking stuffer for your fave kid. Just write me at
nancy@NancyRue.com
and tell me you have liked my page on Facebook (
www.facebook.com/nnrue
) or follow me on twitter @nancynrue.
Nancy Rue
www.NancyRue.com