AuthorBuzz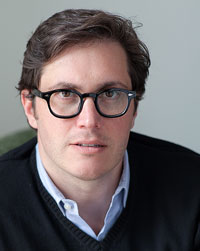 Austin Ratner
Dear Reader,
A dazzling story of fathers, sons, and brothers bound by love, divided by history, IN THE LAND OF THE LIVING tells the story of the Auberons, a lovably neurotic, infernally intelligent family who love and hate each other — and themselves — in equal measure. Part family saga, part coming-of-age story, it's a kinetic, fresh, bawdy yet earnest shot to the heart of a novel about coping with death, and figuring out how and why to live.
An iTunes Best Book of the Month, Jonathan Burnham Schwartz says "it dances and rages with uncommon wisdom, conveying the pain, comedy, and beauty of familial love across the generations."
Publishers Weekly
calls it "a spiky tale of family...The characters are compelling, and the bonds between these brothers and fathers and sons are convincing and raw."
I wrote this book for readers like myself, and readers like you. I'm giving away five copies and would love for you to have one. Write to me —
AustinRatner@gmail.com
— for a chance to win.
Thank you,
Austin Ratner
www.AustinRatner.com