AuthorBuzz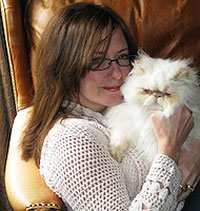 Sandra Novack
Dear Reader,
Have you ever wound up in bed with the wrong type of person? Wondered if true love is as elusive as Yeti? Lost faith in this ever-changing world? In my new collection, EVERYONE BUT YOU, read about women (and a few good men) in search of connection in the face of uncertainty. A young woman confronts her past, and its affect on her present love life, when she inherits her late father's possessions in "My Father's Mahogany Leg." In "Morty, El Morto" a young boy struggles with a failing belief in God, his faith restored by a first kiss. In "Memphis" a man walks a delicate line between caring for his mentally ill brother and keeping his new marriage afloat.
Download a free story at
www.scribd.com/doc/57487337/Fireflies-by-Sandra-Novack
. And because this writer is a gypsy (really!), enter to win one of five free "love" tarot card readings over e-mail! Enter at:
sandra@SandraNovack.com
.
Sandra Novack
www.SandraNovack.com