AuthorBuzz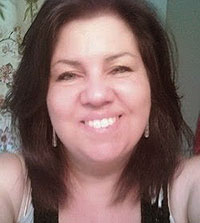 Lisa Mondello
Dear Reader,
My love affair with cowboys started a long time ago when a cowboy tipped his hat at me from across a parking lot.  I've been hooked ever since.  So when Dee and Julie approached me to write an episode of Rising Storm, I jumped on the opportunity!  It's been so fun to be completely embroiled in this ongoing story, getting to know the people of Storm, Texas and then writing about them, too, in WEATHER TH STORM!
Get ready for something exciting!  This is one storm you don't want to miss!
Please write to
risingstormbooks@gmail.com
for a chance to win one of five copies of the ebook.
All the best,
Lisa Mondello
RisingStormBooks.com