AuthorBuzz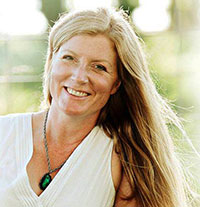 Kaya McLaren
Dear Reader,
Bad things happen in threes: Willow's mother dies, she gets dumped, and she discovers she's pregnant. Reluctantly, she returns to her childhood home, a failed New Mexico winery bordering an Apache reservation where the community seems to think she belongs far more than she ever imagined.
Booklist
said "this touching novel of homecoming will draw apt comparisons to early Barbara Kingsolver". Based on my experiences as a teacher on a Jicarilla Apache Reservation, THE ROAD TO ENCHANTMENT examines "home" and the people and landscapes that define us.
Write to
jordan.hanley@stmartins.com
for a chance to win an early copy.
Kaya McLaren
www.KayaMcLaren.com