AuthorBuzz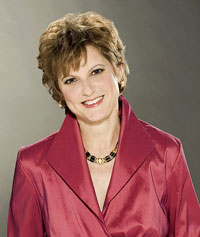 Nicole Jordan
Dear Reader,
How much harm could come from one little kiss?
In Regency times, a whole lot!
That's what Tess Blanchard learns in the lively conclusion to my six-book The Courtship Wars series, TO DESIRE A WICKED DUKE, which goes on sale this week.
Two years after Tess's betrothed dies fighting Napoleon, the genteel beauty indulges her curiosity about the nature of passion and risks one kiss. But one kiss leads to two, and two leads to a brewing scandal. To her dismay, Tess must wed her arrogant nemesis, Ian Sutherland, Duke of Rotham. What ensues is a matrimonial battle of Napoleonic proportions. Tess might be Ian's bride, but that doesn't mean she'll succumb to the wedding bed!
Read The Courtship Wars character blogs on
www.NicoleJordanAuthor.com
– and e-mail your postal address to
JenniferSell@NancyBerland.com
for a series bookmark.
"A provocative page-turner brimming with sensuality and wit. Nicole Jordan charms and captivates." — Jillian Hunter,
New York Times
bestselling author
Nicole Jordan