AuthorBuzz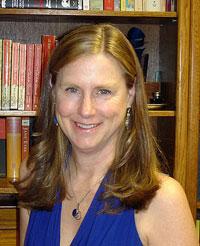 Syrie James
Dear Reader,
I'm thrilled to announce the release of my novel NOCTURNE, a haunting story of forbidden love.
In NOCTURNE, Nicole Whitcomb's car runs off a Colorado mountain road during a blizzard, and she is snowbound for days with a reclusive, gorgeous, fascinating, yet enigmatic man. There are things about Michael Tyler that mystify her, filling her with apprehension—but soon she is falling just as deeply in love with him as he is with her.
As the sexual tension between them builds, the clues mount up. When Nicole learns the terrifying truth—that her host is an ages-old vampire who's torn between his love for her and his desire for her blood—there's nowhere for her to run but the blizzard raging outside, and he's the only one who can save her life.
I fell in love with Nicole and Michael while writing this novel, and I hope you will, too. They became so real to me that I feel as if their life-altering, deeply romantic encounter really happened, and that Michael's beautiful house really is perched up there high in the Rockies, nestled between the pines.
Please visit my website at
www.SyrieJames.com
to learn more about NOCTURNE and to read an excerpt.
All best wishes,
Syrie James
Author of DRACULA, MY LOVE