AuthorBuzz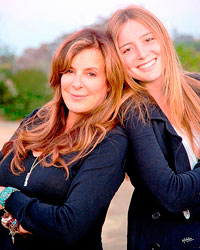 Victoria Jackson & Ali Guthy
Dear Reader,
I'm Victoria Jackson, known for honoring natural beauty with my makeup. Now my focus is the Guthy-Jackson Charitable Foundation, funding research for Neuromyelitis Optica (NMO), founded when my daughter, Ali, was diagnosed with this rare and incurable disease.
My name, Ali Guthy, is often associated with NMO. But that doesn't define me. I'm a friend, sister, daughter, student, athlete, leader, supporter, and fighter. One thing I'm not is a victim.
SAVING EACH OTHER is not a story about victims, but survivors and activists who refuse to accept the unacceptable.
Email
vanguard.intern@perseusbooks.com
with any questions or book copy requests.
Victoria Jackson & Ali Guthy
GuthyJacksonFoundation.org