AuthorBuzz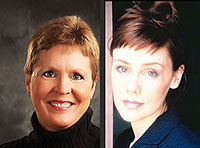 Alexandra Ivy & Laura Wright
Dear Reader,
What happens when a human female is impregnated with a Pantera child? A hunt is on to find her! BLADE tells the story of a male shifter who escaped captivity, only to become obsessed with finding the human woman who was implanted with his DNA. A woman who's had her mind altered to believe she was assaulted by the very male who only wished to protect her.
Emotions run high.
Passion runs deep.
And the hope that these two beings from different worlds can find each other again.
Please write to
1001DarkNights@gmail.com
for a chance to win one of five copies.
Happy Reading,
Alexandra & Laura
1001DarkNights.com