AuthorBuzz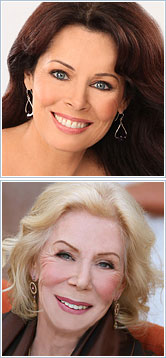 Louise L. Hay and Cheryl Richardson
Dear Reader,
Cheryl and I have both made phenomenally positive changes in our lives, and we want to share what we've learned with you. All of us can improve the quality of our lives if we practice the art of self-care and train our minds to think thoughts that make us feel good. When we do, we attract delightful experiences that enrich our lives.
The idea Cheryl and I had was to present these methods in the easiest possible way so that you could, step-by-step, learn how to have peace of mind—to live worry free in a healthy body, with a comfortable income, while enjoying your relationships. Ultimately, we wanted to show you how to move from feeling like a victim to being the creator of an enjoyable life.
As you read this book chapter by chapter, you will notice your shoulders relaxing, your brow lines smoothing out, and your tension and fearfulness dissolving as you realize that there is a better way to live.
—Louise L. Hay
www.LouiseHay.com
In celebration of the release of YOU CAN CREATE AN EXCEPTIONAL LIFE, Hay House is offering you the chance to win one of many great prizes including a Miraval Retreat, a coaching session with Cheryl, and a Kindle! View prizes & enter to win at
www.YouCanCreateAnExceptionalLife.com
.