AuthorBuzz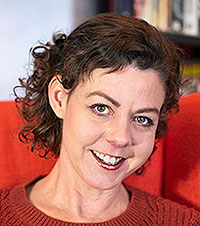 Christie Grotheim
Dear Reader,
Maybe you know a Marjorie Moore; maybe you are one. She's dauntless, desperate, and a little bit delusional. THE YEAR MARJORIE MOORE LEARNED TO LIVE follows our flawed but lovable protagonist in her misguided search for fulfillment. Feeling trapped by her town and her family, she escapes through obsessive shopping, pill popping, and fueling a possible affair. As her world unravels, Margie wrestles with whether she is capable of becoming present in her own life.
Kirkus
Reviews says "Grotheim's prose is bouncy and biting." Goodreads readers call it "scathingly funny" and "achingly full of heart." 
Email 
cgrotheim@gmail.com
 for a chance to win 1 of 5 copies!
Christie Grotheim
www.ChristieGrotheim.com