AuthorBuzz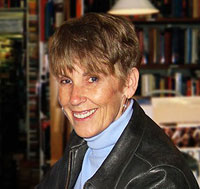 Sally Goldenbaum
Dear Reader,
In the Seaside Knitters sixth adventure, A FATAL FLEECE, discovery of a precocious skeleton in a seaside knitter's closet, the murder of an old fisherman friend, and an unexpected inheritance plunge the knitters into a simmering summer of danger in. As suspicion falls on lobsterwoman Cass Halloran, the knitters heat up their search for the true killer, and, in the process, uncover long-buried secrets that threaten neighbors, friends, and friendship in the once-tranquil seaside town.
I'm giving away 5 copies of A FATAL FLEECE and THE WEDDING SHAWL (#Seaside Knitters Mystery #5, now available in paperback). E-mail me (
sgoldenbaum@gmail.com
), with AuthorBuzz in the subject line for a chance to win! 
I hope you enjoy getting to know the seaside knitters as much as I enjoy spending time with them—and with you. My wishes for a happy summer!
Sally
SallyGoldenbaum.com