AuthorBuzz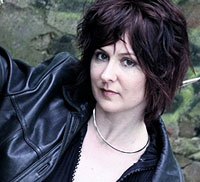 Colleen Gleason
Dear Reader,
I grew up reading the wonderful old gothics like those by Mary Stewart and Victoria Holt, and then became addicted to the spooky stories by Barbara Michaels. I loved those books, and when I walked into an old antiques shop on South Street in Philly a few years ago, I had an inspiration for a story set in this wonderful old shop. Complete with ghosts, romance, and a fun, New Age heroine; THE SHOP OF SHADES AND SECRETS is an homage to some of my favorite authors. I hope you'll find it fun and romantic, as well as suspenseful.
I'll be giving away five copies of this book's companion title,
The Cards of Life and Death
. Please email me at
buzz@colleengleason.com
to be entered and added to my newsletter list as well.
Colleen Gleason
www.ColleenGleason.com