AuthorBuzz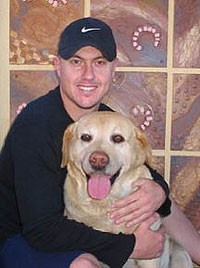 Gareth Crocker
Dear Reader,
It gives me great pleasure to introduce my debut novel, FINDING JACK.
After losing his family in a plane crash, Fletcher Carson joins the flagging war effort in Vietnam where he hopes to die. However, fate has other plans for him, and during one of his early missions he rescues a wounded Labrador and helps nurse him back to life.
He names the dog Jack and as a bond deepens between them, Fletcher slowly regains his will to live. But then, disaster: the U.S. Government announces a ceasefire and the military soon declares that all U.S. dogs serving in the war have been classified as "surplus military equipment" and are to be left behind in Vietnam.
Dog handlers throughout Vietnam receive the news with shock and disbelief. And Fletcher knows that if he abandons Jack, then he too will be lost.
Based on the true account of the abandoned Vietnam War Dogs, Finding Jack is the moving story of one man's determination to save his dog and their journey back to life.
I hope FINDING JACK inspires you.
Best wishes,
Gareth Crocker
www.GarethCrocker.com