AuthorBuzz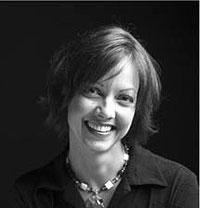 Lorna J. Cook
Dear Reader,
OUTSIDE WONDERLAND takes you from New York to Chicago to Washington, D.C. to...Heaven—telling the story of Alice, Griffin, and Dinah Stenen, three siblings fumbling their way in the world as their parents watch from somewhere beyond.
Praise for OUTSIDE WONDERLAND:
"...a heartfelt world where life often gets in the way of finding happiness. You will fall in love with these characters." —Kristin Hannah,
New York Times
bestselling author of
Winter Garden
"From the very opening pages, you realize two things: that you are in the hands of a strong, gifted writer and that you should prepare yourself for ANYTHING to happen in this original, poetic, and riveting story.... I did not want this book to end." —Katrina Kittle, author of
The Blessings of the Animals
and
The Kindness of Strangers
For a chance to win one of five free, signed copies of the book—and an iPod Shuffle loaded with songs fitting themes of the book—please contact me through
www.LornaJCook.com
. Readers will be selected at random.
All the best!
Lorna Jane Cook