AuthorBuzz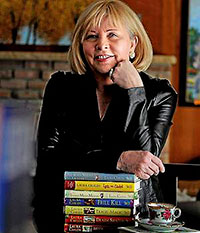 Laura Childs
Dear Reader,
As tea shop owner Theodosia and her tea sommelier Drayton enjoy a British-style day of shooting at Creekmore Plantation, gunshots explode like Black Cat firecrackers. But the distinctive pop of a handgun sounds too close for comfort. Theodosia wanders into a neighboring lavender field and discovers their host Reginald Doyle bleeding to death. Hours later, a fire rips through the Doyle's plantation house.
A shooting and a fire feel way too coincidental, so Theodosia launches an investigation. Fingers are pointed, suspects abound, and old secrets are revealed even as Reginald's daughter-in law is missing and presumed drowned. A wild, cross-country chase with more shots fired reveals the killer.
This is one of my most action-packed mysteries yet!
Laura Childs
www.LauraChilds.com