AuthorBuzz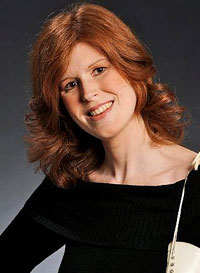 Joelle Charbonneau
Dear Reader,
SKATING OVER THE LINE is the second in the Rebecca Robbins mystery series that the
Chicago Sun-Times
calls "off-beat and clever".
Rebecca is desperate to sell her roller rink in small town Indian Falls and return to Chicago, especially now that her long-delinquent father is back. But cars are disappearing and exploding around town with people in them. Unable to resist sleuthing, Rebecca soon has strange, scary men threatening her life. With the help of her Elvis-impersonating grandfather, Rebecca must find the pyromaniac car thief and put a stop to him—before he stops her first.
For a chance to win one of five copies of SKATING OVER THE LINE, please email me at
talktojoelle@aol.com
before Oct. 15, 2011. In your e-mail, please mention this note. You can also win one of five copies of my first book, SKATING AROUND THE LAW if you "like" me on Facebook.
Joelle Charbonneau
www.facebook.com/AuthorJoelleCharbonneau
www.JoelleCharbonneau.net