AuthorBuzz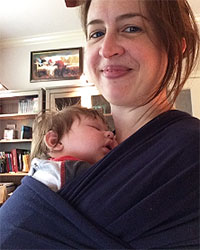 Nicole Camden
Dear Reader,
Writing this final book in my Billionaire Tricksters of Boston series was a challenge in more ways than one. I loved Milton, my first hero from
The Lady Vanishes
, and I wasn't sure how to make Roland come to life. I was also heavily pregnant while working on the book and had my beautiful son in the middle of completing it. So I was a mess in more ways than one. Still, I adore Roland, and I hope you do as well.
To celebrate the book's publication, I'm offering 3 prizes in a Rafflecopter giveaway. One prize for a $150 gift card*, and two prizes for a $25 gift card* as well as copies of the ebook LIE IN THE MOMENT. (*Gift cards will be for the bookstore of the winners choice.) 
bit.ly/nicolecamden_giveaway_150giftcard
Get ready for some sexy winter fun in Boston.
Best,
Nicole Camden
www.dnmoss.com