AuthorBuzz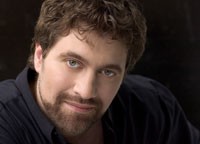 David Blixt
Dear Reader,
This was supposed to be a huge epic with a vast cast, spanning decades. But my lead wasn't having it. He demanded a simpler story. Because for Judah it is simple: He wants to protect his land from the Romans. He wants to marry the girl he's always loved. He wants his brother to live. That's it. So while this is the beginning of a very long journey, it starts simply. And horribly, as Judah is forced to choose. His brother, his love, or his country. What does he love most?
And if you email me at 
greyhoundverona@aol.com
, I'll be giving 5 ebook copies of COLOSSUS.
David Blixt
www.DavidBlixt.com