AuthorBuzz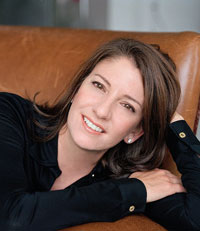 Nichole Bernier
Dear Reader,
What would you do if you inherited the journals of a friend, and discovered a far different person than you thought you knew — including where she was really going when she died?
Set in the anxious summer following the September 11th terrorist attacks, THE UNFINISHED WORK OF ELIZABETH D. is about two women — their friendship, their marriages, their private ambitions and fears — and the aspects of ourselves we choose to conceal, and the repercussions of those choices.
I hope you'll enjoy the story, which grew from the loss of a friend on Flight #11, and my longtime interest in the legacies we each leave behind. I am giving away signed books — five, so that my five young children will not fight over who gets to draw a name. Email
Nichole@NicholeBernier.com
to have your name added to the fishbowl.
Sincerely yours,
Nichole Bernier
www.NicholeBernier.com