AuthorBuzz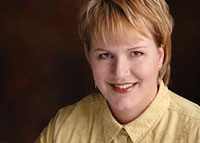 Lisa T. Bergren
Dear Reader,
I adore a page-turning novel with lots of romance and drama. And with two teenage girls in my house, I really wanted my next book to be for them, so I wrote WATERFALL.
Since I also love a twinge of the fun and fantastic, you'll find out that Gabi and Lia, American teens, time-travel back to medieval Tuscany—and encounter the coolest guys ever—as well as a mountain of danger. These sisters are no wimpy "save me" heroines waiting on their knights; they're seriously tough. Yet they're real girls too, suddenly with lives we might all fantasize about.
In celebration of WATERFALL's release, I'm sponsoring several contests. Stop by my web site to enter!
LisaTawnBergren.com
.
And find out more by joining the River of Time Series group on Facebook!
Happy reading,
Lisa Bergren
P.S. You can read a chapter:
www.scribd.com/doc/46485013/Waterfall