AuthorBuzz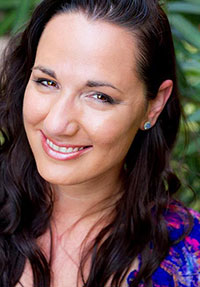 Jennifer L. Armentrout
Dear Reader,
Not sure if you've heard or not, but A SHADOW IN THE EMBER, book one in the brand-new Flesh and Fire series, releases today! I'm so excited for you guys to immerse yourself in a world that may be familiar for those who have read the Blood and Ash series.
Yep! A SHADOW IN THE EMBER takes place in the same world as the Blood and Ash books but goes back to when the gods interacted with man — before the Kingdom of Atlantia existed, or the first Ascended was created. Some of the events in A SHADOW IN THE EMBER are going to pave the way for what is to come in the Blood and Ash series, but if you haven't read any of the Blood and Ash books, don't fret. It's not necessary in order to read this one. A SHADOW IN THE EMBER is full of action, steam — lots of steam — and plot twists you probably won't see coming.
Sera is somewhat of an anti-hero. She's seen a lot, been through a lot, and she has to accomplish even more to save her kingdom. Which includes killing Nyktos, the Primal God — someone she has been promised to as his Consort. The only way she can do this is to become his weakness by making him fall in love with her. What she cannot do — ever — is feel anything for him. Shouldn't be a problem, right? RIGHT? But Nyktos is not at all what she expected from a powerful god. He's as kind as she is ruthless, calm as she is wild, but when provoked there is nothing deadlier than the Primal of Death. When it becomes clear that someone wants Sera dead, the question becomes: who and why? Because in the realm of gods and Primals nothing and no one is what or who they seem.
Please write to
1001DarkNights@gmail.com
for a chance to win one of five copies.
Enjoy!
JLA
www.1001DarkNights.com