AuthorBuzz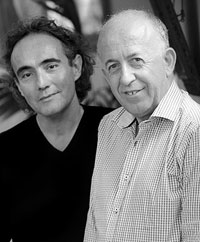 Jean-Pierre Alaux and Noël Balen; Anne Trager (translator)
Dear Reader,
TREACHERY IN BORDEAUX is a classic whodunit set in French wine country, offering an inside view of this famous region, where the wine has aromas of deceit and intrigue. Some grand cru barrels are contaminated. Is it negligence or sabotage? Who would want to bring down such an esteemed vintner? Gentleman detective Benjamin Cooker and his sidekick Virgile Lanssien search city and vineyards for answers. It is the first of the 20-strong Winemaker Detective series, a hit on TV in France.
We are giving away five ebooks. Write
contact@lefrenchbook.com
. Check out the book page for more bonuses.
Jean-Pierre, Noël and Anne
www.TreacheryInBordeaux.com