AuthorBuzz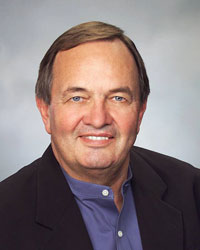 Larry D. Thompson
Dear Librarians,
I grew up in Fort Worth, Texas. Starting at age seven, each summer I would get on the bus a block from my house and go downtown to the public library where I would check out five books and return the five from the week before. (Those were the good old days when a little kid could ride the bus by himself with no safety concerns.) That was my introduction to libraries and I've been a fan ever since. Now I've become an author and hope to find my newest novel, THE TRIAL, in the Fort Worth Public Library, as well as yours.
It's a story about a father and his daughter, Luke and Samantha Vaughan. Luke moved his daughter to his old hometown of San Marcos, Texas to establish a low-key law practice. After a tumultuous teenage period, Luke and Samantha settled into the father-daughter relationship he always wanted. Then Samantha volunteered for a clinical trial of a new drug and her liver failed. Unable to pay for a liver transplant, Luke was forced to sue the drug manufacturer. In a race against time Luke has to win if he is to save his daughter's life. When his efforts expose fraud and corruption in both the drug company and the FDA, Luke is confronted with an adversary that will do anything, including bribery, kidnapping and murder, to defeat him.
Your readers will like this one for several reasons. First, they will discover that what the big drug companies don't tell them can kill them. Next, it's a darn good legal thriller. John Lescroart says, "THE TRIAL is just terrific." Louise Penny says, "I couldn't put THE TRIAL down. It's a riveting courtroom thriller, and the tension just keeps building. Wonderful!" (For similar comments from other authors, please go to my website,
www.LarryDThompson.com
.) While you're there, be sure to register for a drawing to receive an autographed advanced reading copy.
Last, THE TRIAL has been chosen as an alternate selection by Doubleday Book Club, Literary Guild Book Club and Mystery Guild Book Club.
Thanks for your time and I look forward to your comments about THE TRIAL.
All the best,
Larry D. Thompson
The Trial
/ Larry D. Thompson / Thomas Dunne Books / Hardcover; 320 Pages
Price: $25.99 / ISBN: 978-0312607357 / Published: March, 2011
---
Larry D. Thompson is one of our featured authors this week.
Click here
to view his reader comments and feel free to use them in your newsletters.