KidsBuzz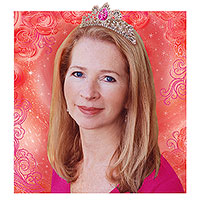 Victoria Kann
Dear Reader,
Thanks to all of YOU, my pinkamazing readers, who are passionate fans of color. Your enthusiasm for red inspired me to write RUBYLICIOUS, my 8th picture book in the Pinkalicious series. 
In this latest adventure, Pinkalicious is searching for stones for her rock collection when suddenly — POOF! — out pops a surprise! Rocky is here to grant Pinkalicious and her brother Peter one wish, and one wish only, so they must choose wisely and come to terms with what is truly important.
I hope that you will find joy, humor, comfort, and inspiration with RUBYLICIOUS, which is about overcoming fear, being generous, and discovering a wish that is truly meaningful.
It is truly an honor for me to be able to write and illustrate the Pinkalicious book series. I am grateful to all of you. Please connect with me on social media;
@IamPinkalicious
and
@VictoriaBKann
.
With love,
Victoria Kann
www.ThinkPinkalicious.com
Rubylicious / Victoria Kann / HarperCollins

Price: $18.99 / ISBN-13: 978-0063055216 / Published: September, 2021

Ages 4-8 / Picture book