KidsBuzz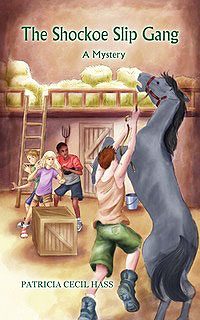 Patricia Cecil Hass
Dear Reader,
I am lucky to have grown up in Richmond, Virginia, riding bikes to parks and baseball stadiums, tennis courts and swimming pools, botanical gardens and museums. We also read lots of books, mostly when it rained or was too cold to go outdoors. We read great stories about history, adventures, animals, and our favorites: mysteries! I decided that some day I would write a book myself and when I grew up, I did! This is an action-packed quest that has history, the outdoors, animals, and danger!
The idea for the hidden letters comes from the belief that during the American Revolution our country's Founders hid secret letters to each other in their children's toys, where the British would not think to look. Those guys risked everything in their fight for liberty. They used their brains and courage — just like the kids in The Shockoe Slip Gang — to achieve something important.
Email
hassoffice@verizon.net
to enter to win a free copy.
Patricia Hass
THE SHOCKOE SLIP GANG: A MYSTERY
Events: Meet author Patricia Hass!
Nov. 13, 5-8 p.m. - The Virginia Museum of Fine Arts, 200 N. Arthur Ashe Blvd., Richmond, VA
Nov. 14, 5-8 p.m. Barnes and Noble book store, Libbie Place shopping Center, 5501 W. Broad St., Richmond, VA
Dec. 3, 11 a.m. talk and signing Westminster/Canterbury Ret. Community, 1600 Westbrook Ave., Richmond, VA
The Shockoe Slip Gang / Patricia Cecil Hass / Windsong Press

Price: $21.99 / ISBN: 978-0578558776 / Published: October, 2019

Ages 8-12 / Hardcover / YA

Also available:
$9.99 / 978-0578582153 / Paperback
$4.99 / 978-0578-582115 / eBook