AuthorBuzz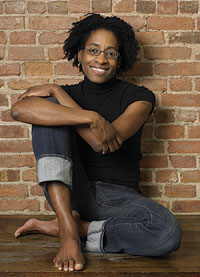 Jacqueline Woodson
Dear Librarians,
The first time I read
Go Ask Alice
, I was twelve years old. For some reason, I thought it was a book I should be reading secretly. There was something dangerous about it as though the diarist was whispering her story solely to me.
BENEATH A METH MOON whispers a similar story. When I first started writing it, the voice of Laurel Daneau, came to me as a whisper – her soft southern drawl recounting a story of a love lost and an addiction gained. I saw her brilliantly white-blond hair, her delicate hands, her confusion. I heard her grandmother's laughter, felt her mother's love. And slowly, I saw the tragedy of meth sneaking toward her. As I wrote and rewrote this book, my experience of reading
Go Ask Alice
came back to me. As a child, that book changed me forever. I was terrified of heroin and knew it was a drug I'd never experiment with. Writing BENEATH A METH MOON produced a similar experience. At the end of
Go Ask Alice
, the diarist dies. I knew one thing – I did not want Laurel Daneau to die.
BENEATH A METH MOON is Laurel Daneau's story. It is a story about a young girl from Pass Christian, Mississippi and a story about the people who save her. But more than that, BENEATH A METH MOON is the story of Laurel's deep and beautiful resilience.
Thanks for reading it.
Jacqueline Woodson
www.JacquelineWoodson.com
Beneath A Meth Moon
/ Jacqueline Woodson / Nancy Paulsen Books / Hardcover; 192 Pages
Price: $16.99 / ISBN: 978-0399252501 / Published: February, 2012
---
Jacqueline Woodson is one of our featured authors this week.
Click here
to view her reader comments and feel free to use them in your newsletters.