AuthorBuzz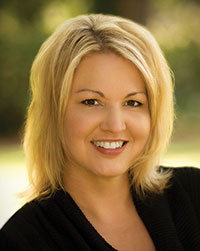 Elisabeth Naughton
Dear Librarians,
I'm so thrilled to be back writing new and exciting stories in my bestselling Eternal Guardians series! The past few years I have been under contract for other works that have kept me away from my beloved Guardians but I want you to know that I'm hard at work on new stories now. The first of those is ENSNARED.
ENSNARED introduces Ryder, a new immortal, to the Guardian. I don't want to give too much away about Ryder but I will say this: he is a dream weaver. He can infiltrate the dreams of mortals. And who do we know who would love to be able use that power?
You guessed it. Zeus, the king of freakin' everything, of course.
Yes, Zeus is back to his scheming ways in ENSNARED. And while he might have the upper hand over my Guardians now, things may be changing. (I'm trying REALLY hard not to spill too much!)
If you've never read the Eternal Guardians series, don't worry, you can start right here with ENSNARED and not be lost. The Eternal Guardians is a paranormal romance series set in modern times but based on the ancient Greek myths. At least one of the main characters in each book is in some way descended from the great heroes of ancient Greece. Each book is sexy, witty, full of action and romance, danger and deception...oh, and of course, a little bit of mythology from those great old stories. If you enjoy ENSNARED, I encourage you to go back and start the series from the beginning with MARKED. The next book coming your way will be a full-length story. I don't have a set release date for WICKED yet, but watch for it in 2019. I can't WAIT to get that one out to all my fans.
Thank you for reading the Eternal Guardians and all the fabulous books published by 1001 Dark Nights. I hope you fall in love with Ryder the way I did!
Happy Reading!
Elisabeth
www.1001DarkNights.com
Ensnared
/ Elisabeth Naughton / Evil Eye Concepts / Paperback
Price: $9.99 / ISBN: 978-1948050920 / Published: February, 2019
---
Elisabeth Naughton is one of our featured authors this week.
Click here
to view her reader comments and feel free to use them in your newsletters.