AuthorBuzz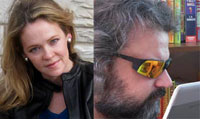 JA Konrath and Ann Voss Peterson
Dear Librarians,
Chandler is an elite spy, working for an agency so secret only three people know it exists—until her cover is explosively blown, and she has only twenty-four hours to thwart a kidnapping, stop a psychopath, uncover the mystery of her past, retire five killers, and save the world from nuclear annihilation, all while dodging 10,000 bullets and a tenacious cop named Jack Daniels.
Buckle up... it's one helluva ride.
FLEE is the first book in an action-packed spy trilogy. SPREE and THREE will be released this year.
JA Konrath and Ann Voss Peterson
JAKonrath.com
AnnVossPeterson.com
JA Konrath is the bestselling author of the Jack Daniels mysteries. He writes horror under the name Jack Kilborn, and sci-fi under the name Joe Kimball.
Ann Voss Peterson is the Daphne du Maurier Award-winning author of twenty-seven suspense novels.
FLEE is available in trade paperback, and digitally through Overdive in all ebook formats.
Flee
/ JA Konrath and Ann Voss Peterson / CreateSpace / Paperback; 254 Pages
Price: $13.95 / ISBN: 978-1461138617 / Published: April, 2011
---
JA Konrath and Ann Voss Peterson are featured authors this week.
Click here
to view their reader comments and feel free to use them in your newsletters.