AuthorBuzz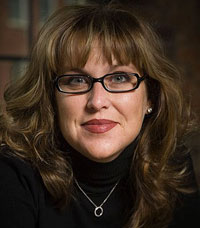 J.T. Ellison
Dear Librarians,
As a reader, I love series and love discovering them at the library. That's where I found John Sandford's Prey series, on the recommendation of my local librarian, which started me on the writing path. But for new readers, it can be confusing to start at the latest release instead of the beginning. I've done my best to combat this in my latest Taylor Jackson novel, WHERE ALL THE DEAD LIE. Inspired by both Daphne Du Maurier's
Rebecca
and the Brother's Grimm
The Snow Queen
, this is a different side to my Nashville based homicide detective—she's been grievously injured, has no voice, and in a desperate attempt to loosen herself from the grip of failure, accepts an invitation to recuperate at the Scottish estate of James "Memphis" Highsmythe, the Viscount Dulsie, a man who would like nothing more that to have Taylor all to himself. Memphis's singularly romantic castle seems perfect, but Taylor quickly realizes not everything is as it seems. A haunted castle, a forbidden love, and the past closing in... is Taylor losing her mind, or is someone, or something, out to get her?
This is my first novel in trade paperback format, and though it is the seventh book in the series, it is a standalone, much more of a gothic suspense than my traditional thriller. A ghost story, perfect for a chilly fall evening.
Thank you for all you do to get books into the hands of readers. We couldn't manage without you!
All best,
JT
www.JTEllison.com
Where All the Dead Lie
/ J.T. Ellison / Mira / Paperback; 400 Pages
Price: $14.95 / ISBN: 978-0778312680 / Published: September, 2011
---
J.T. Ellison is one of our featured authors this week.
Click here
to view her reader comments and feel free to use them in your newsletters.