AuthorBuzz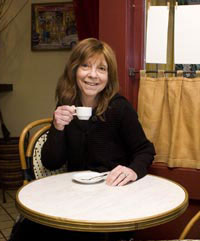 Cara Black
Dear Librarians,
MURDER IN PASSY, the eleventh in my Aimée Leduc Investigations series set in Paris, takes Aimée to the chic, 16th arrondissement, a gorgeous, village-like wealthy area where the maids wear pearls. It's November 1997, several months after Princes Diana's death, when Xavierre d'Eslay, a haut bourgeois matron of Basque origin and the girlfriend of Aimée's godfather, Morbier, is strangled outside her home in the exclusive Passy neighborhood. Circumstantial evidence makes Morbier the prime suspect— is it a crime of passion? In the course of her investigation to vindicate him, Aimée discovers a web of police corruption, radical Basque Terrorists and a kidnapped Spanish princess.
Kirkus Reviews
says "The ideal mix of the personal, the political, the puzzling and the Parisian make Aimée's latest a perfect pleasure."
For a chance of winning one of five free copies of MURDER IN PASSY, and French Valhrona chocolate to mark the occasion, email
marketing@sohopress.com
. To see the other books in the Aimée Leduc Investigation series visit
www.CaraBlack.com
, and why not friend me at
www.facebook.com/cara.black1
, or on Twitter at @carablack.
Hope you enjoy!
Love,
Cara
Murder in Passy
/ Cara Black / Soho Crime / Hardcover; 288 Pages
Price: $25.00 / ISBN: 978-1569478820 / Published: March, 2011
---
Cara Black is one of our featured authors this week.
Click here
to view her reader comments and feel free to use them in your newsletters.